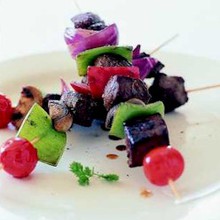 Korean Kebabs
---
Ingredients:
several large thickly sliced topside steaks
4 tblspns sugar
4 tblspns sesame seeds
2 cloves garlic
1 tspn ground chilli
1 tblspn plain flour
1/2 cup soy sauce
1 tblspn oil
small onion, finely diced
Method:

Dice steak into reasonably large pieces.
Combine all ingredients to form a marinade, pour over the steak and refrigerate for about 24 hours, giving it a stir whenever you remember.
Thread on to large bamboo skewers with onion, pineapple, mushrooms, bacon - whatever you like.
They?re really nice if you cook them on a Weber but you can just grill them.