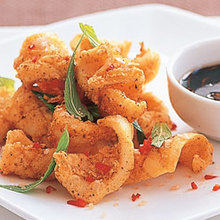 Pink Salt & Pepper Squid
---
Ingredients:
1 kiwifruit
200ml milk
2 tblspns self raising flour
2 tblspns rice flour
1 tblspn pink salt
1 tblspn Szechuan pepper
2 tspns ginger powder
2 tspns garlic powder
2 tspns onion powder
peanut oil, for frying
500g cleaned baby squid, scored
DIPPING SAUCE
100ml sweet soy, warmed
2 tspns sesame oil
5g finely sliced ginger
Serves: 4
Method:

Peel kiwifruit and mash. Add milk and pour over squid in a glass bowl. Refrigerate for a few hours or if possible, overnight.
Combine flours, salt, pepper and flavourings. Pour enough peanut oil into a heavy base pan to one-third fill. Heat over medium-high heat. Strain squid well and toss in flour mixture.
Cook squid in the hot oil in batches until golden. Drain on paper towel. Combine warm soy, sesame oil and ginger and serve as dipping sauce.
Toss mint and chopped chillies through squid if desired.