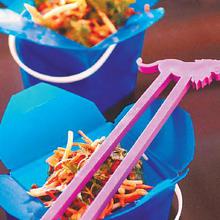 Roast Chicken Salad With Peanut Dressing
---
Ingredients:
2 red shallots
1 clove garlic
1 stalk lemongrass
1 large red chilli
2 lime leaves
oil for cooking
125g toasted peanuts
1 tblspn tamarind pulp
125ml hot water
400ml coconut milk
75ml sweet thick soy
1 red capsicum
1 lebanese cucumber
2 carrots
3 spring onions
100g bean sprouts
400g roast chicken, shredded
1 cup coriander leaves
Serves: 4-6
Preparation time: 45 minutes
Method:

To make the dressing, peel and roughly chop the onions, garlic and lemongrass. Roughly chop the chilli. Shred the lime leaves. Place all into a food processor with a little water and blend to a fine paste.
In a large saucepan, heat oil and then add paste. Fry paste until it is fragrant (about 10 minutes), stirring frequently.
Place the peanuts into the food processor and blend until chopped. Dissolve the tamarind pulp into the water and then strain. Add peanuts to the paste, along with the tamarind water and coconut milk. Stir and let the sauce simmer for about 15 minutes.
Add the soy, check seasoning and allow to cool.
Finely slice capsicum, cucumber and carrot. Cut the onions into rings and place all in a mixing bowl with the beansprouts, chicken and coriander.
Ladle over dressing, toss, place into noodle boxes and refrigerate until it's time to pack the esky.