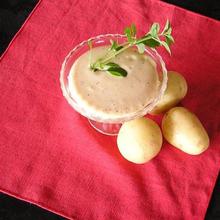 Nana's Potato Salad Dressing
---
Ingredients:
1 tablespoon cornflour
1 teaspoon salt
1 teaspoon pepper
2 teaspoons mustard powder
4 tablespoons sugar
2 eggs
6 tablespoons (120 mls) white vinegar
8 tablespoons (160 mls) milk
1 knob butter or margarine
A tasty alternative to oil based dressings.
Method:

Mix all dry ingredients, then add unbeaten eggs, and mix thoroughly.
Add vinegar, mix well, add milk, mix well and then add the butter (optional).
Cook over a slow heat, stirring constantly, until the dressing boils and thickens.
Very easy to do in a microwave as well, just stir every 30 secs or so.
Add to cooked potatoes with chopped spring onions and parsley to taste.