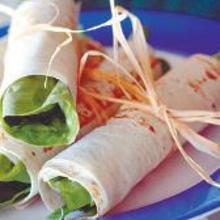 Lamb Sausages Wrapped In Mountain Bread
---
Ingredients:
1 red onion
2 cloves garlic
1 long red chilli
400g lamb mince
1 lemon
1 tspn ground cumin
salt
freshly ground black pepper
olive oil
8 pieces flat mountain bread
tomato chutney
plain yoghurt
1 lebanese cucumber
2 tomatoes
1 small cos lettuce
Serves: 6-8
Preparation time: 30 minutes
Method:

To make the lamb sausages, peel and finely dice the onion and garlic, and finely dice the chilli. Mix with the lamb mince, zest of the lemon plus a little juice, cumin, salt and pepper. Mix well and shape into log-shaped skinless sausages.
Heat the olive oil in a pan and fry them until cooked through and set aside to cool.
Lay the mountain bread out on the bench and spread with a little chutney, yoghurt or homous. add some sliced cucumber, tomato, lettuce and then finish with a sausage. Roll up the bread as tightly as you can and tie together with string.
Place into a plastic container and pack into the esky.