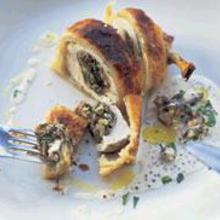 Chicken & Mushroom Pastry Parcels
---
Ingredients:
170g mixed mushrooms
olive oil
1 or 2 cloves garlic
sea salt
freshly ground black pepper
1 handful flat leaf parsley
4 chicken breasts
2 sheets puff pastry
1 egg, beaten
2 tblspns wholegrain mustard
1 large glass white wine
140ml double cream
Serves: 4
Method:

Preheat the oven to 200C.
Chop up the mushrooms - half rough and half fine. To a hot pan, add a couple of lugs of olive oil and slowly fry the garlic with the mushrooms for about 10 minutes. Season to taste and stir in the chopped parsley. Allow to cool.
Make a pocket into the breast and stuff the chicken with the cooled mushrooms.
Halve each sheet of pastry and wrap around each chicken breast. Brush the pastry with a little egg, and cook in the preheated oven for 35 minutes.
Put the mustard and white wine into a hot pan and allow to reduce until you've cooked away the alocohol smell. Add the cream and simmer until the sauce coats the back of a spoon. then remove from the heat and season to taste.
Slice each chicken breast into 3 and serve with a bit of sauce and a little drizzle of olive oil if you like.