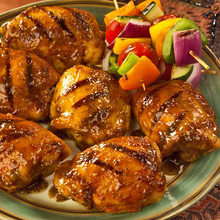 Grilled Portuguese Chicken
---
Ingredients:
80ml lemon juice
1 tblspn olive oil
1 tblspn paprika
2 tspns oregano
1 tspn sea salt flakes
2 red chillies
1 clove garlic
4 chicken breasts
Spicy chicken dish grilled on the barbecue.
Method:

Cut each chicken breast in half horizontally so that you have 8 thin breast pieces.
Combine all other ingredients and marinate the chicken for several hours.
Grill on a hot barbecue.
Serve with mango chutney, yoghurt and fried rice, and garnish with fresh coriander leaves.