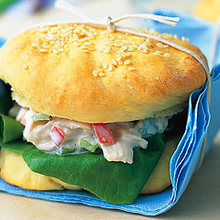 Mini Dampers With Chicken, Celery & Mayonnaise
---
Ingredients:
1 1/2 cups self raising flour
pinch of salt
1/2 cup milk
plain flour, to dust
extra milk, to brush
1 tspn sesame seeds
1 chicken breast fillet
1/4 cup egg mayonnaise
1 clery stick, trimmed, finely chopped
1/2 red capsicum, halved, deseeded, finely chopped
4 butter lettuce leaves
Great lunch box idea for the kids.
Serves: 4
Preparation time: 20 minutes
Method:

Preheat oven to 210°C. Line a baking tray with non-stick baking paper. Sift the flour and salt into a large bowl. Use your fingertips to rub the butter into the flour mixture until it resembles fine breadcrumbs. Add the milk. Use a round-bladed knife in a cutting motion to mix until evenly incorporated and the mixture begins to hold together.
Turn the dough onto a lightly floured surface and gently knead until smooth. Divide the mixture into 4 equal portions. Shape each portion into a ball and gently flatten to an 8cm-diameter disc. Place on prepared tray. Lightly brush tops of dampers with extra milk and sprinkle with sesame seeds.
Bake in preheated oven for 12-15 minutes or until dampers are golden brown and sound hollow when tapped on the bases. Remove from oven and transfer to a wire rack to cool completely.
Meanwhile, fill a small frying pan with water and bring to the boil over high heat. Reduce heat to low. Add the chicken and simmer for 6-8 minutes or until just cooked through. Transfer to a plate and set aside for 20 minutes to cool. Shred the chicken into thin strips and place in a medium bowl. Add the mayonnaise, celery and capsicum, and stir to combine.
Split the dampers. Place a lettuce leaf on the bottom half of each damper. Spoon chicken mixture evenly among dampers and top with the remaining damper halves. Wednesday's lunch box: Pack a mini damper with chilled pineapple juice and frozen orange wedges.
Notes & Tips
These dampers will keep for up to 2 days. Store in an airtight container out of direct sunlight. Alternatively, you can freeze them for up to 2 weeks. Place dampers in individual freezer bags, then label, date and freeze.