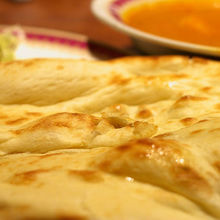 Naan
---
Ingredients:
1/2 cup milk
2 tblspns vegetable oil
1/4 cup yoghurt
2 eggs
1 tspn salt
4 cups plain flour
4 1/2 tspns yeast
Easy to make bread machine Naan. Add garlic and / or spices (garam masala, fenugreek, curry powder) for a bit of variation.
Serves: 8
Method:

Add ingredients to the bread machine as per the manufacturer's instructions. Set to 'dough' cycle.
After about 5 minutes check the dough. Add a tablespoon of water at a time if too dry, or a tablespoon of flour at a time if too wet.
Preheat oven to 220 with a stone or baking tray.
When the dough cycle is complete, turn the dough out on to a floured surface and punch down. Divide in to 8 pieces.
Working one at a time with the other pieces covered, roll dough out to a thickness of about 5mm.
Bake for about 4 minutes until puffed up, then brown tops under the grill.