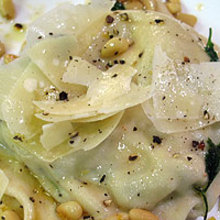 Agnoletti With Goats Cheese, Semi Dried Tomato and Pinenuts
---
Ingredients:
Fresh pasta
150g chevre
1/2 cup chopped basil
50g grated parmesan
20 semi dried tomatoes
SAUCE
20g parmesan
1 lemon zest
100g pinenuts, toasted
nut brown butter
Serves: 4
Method:

Combine goats cheese and parmesan in a bowl and add salt and pepper to taste. Add lots of freshly chopped parsley/basil, lemon zest and tomato.
Roll out the pasta very fine (rolling out about 6 times, getting to the second last slot of the machine) and either cut squares or rounds to form the agnoletti shape (like a pillow).
Place a small amount of filling in the centre of one piece, cover with a second brushing the edges with a little eggwhite or water to seal. Roll out, (pin back), the edges so that they are not double thickness.
Boil a pot of salted water, add a little oil and with a rapid boil, slowly add the agnolotti's. They only take a few minutes and once they rise to the top they are cooked. Remove with a slotted spoon, dab, but keep a little moisture on them, even sprinkling with a little olive oil to keep them moist while you make the sauce.
SAUCE


Melt the butter in a pan and allow the milk solids to turn a nutty brown colour (this also becomes fragrant), add pine nuts and season with a little salt and pepper, lemon zest,and chopped parsley and pour over cooked pasta. Sprinkle with chopped basil and parmesan shavings. And garnish with some chopped parsley and a squeeze of lemon juice.
Serve.