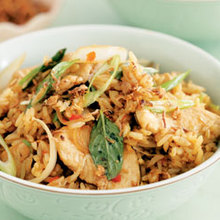 Chicken Fried Rice
---
Ingredients:
2 tblspns light soy sauce
2 tblspns sweet chilli sauce
2 tblspns oyster sauce
2 tblspns peanut oil
600g chicken breast fillets, thinly sliced
1 brown onion, cut into wedges
2 cloves garlic, crushed
2 eggs, lightly beaten
3 cups cold cooked rice
1 cup Thai basil leaves
4 green onions, sliced diagonally
1/4 cup fried shallots
Serves: 4
Method:

Combine soy sauce, sweet chilli sauce and oyster sauce in a small bowl. Set aside. Heat a wok over high heat until hot. Add 3 teaspoons oil and swirl to coat. Add half the chicken and stir-fry for 2 minutes or until browned. Transfer to a plate. Repeat with oil and remaining chicken.
Add remaining 2 teaspoons oil and onion to wok. Stir-fry for 2 to 3 minutes or until golden. Add garlic and stir-fry for 30 seconds. Add egg and rice. Stir-fry for 2 to 3 minutes or until egg is well combined with rice.
Return chicken to wok. Add soy sauce mixture, basil and green onions. Stir-fry for 1 to 2 minutes or until well combined. Spoon into bowls. Sprinkle with fried shallots and serve.
Notes & Tips
Use about 1 cup of jasmine rice. Cook rice following absorption method on packet. Spread on a tray. Refrigerate overnight, if time permits.
Fried shallots are available from large supermarkets and Asian grocery stores.