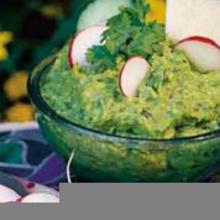 Guacamole
---
Ingredients:
2 large avocados
1 clove garlic
handful fresh coriander leaves
2 (small) fresh chillies
juice of lime
2 - 3 tblspns water
1 finely chopped onion
Method:

Reduce garlic, coriander, chillies to a paste (use a mortar and pestle if you?ve got one).
Mash in avocado and lime and water to make a suitable consistency.
Stir in onion.
Serve with CC?s, chopped mushrooms, sliced carrots......