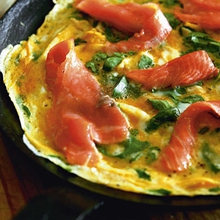 Smoked Salmon & Rocket Frittata
---
Ingredients:
2 eggs, beaten
1/4 cup sliced rocket leaves
sea salt
freshly ground black pepper
extra virgin olive oil
slices of smoked salmon
Serves: 1
Method:

This is a quick, single-serve frittata that can be made as quickly as a pancake.
Beat 2 eggs lightly, add a quarter cup of sliced rocket leaves and season with salt and pepper.
Heat a teaspoon or two of extra virgin olive oil in a skillet until it is just smoking, making sure the oil covers the surface of the pan. Pour in the egg mixture.
The frittata should be quite wide and the liquid spread over the pan quite thinly. It should take only a half-minute or so, leaving some just-cooked areas on top of the frittata. Now distribute slices of smoked salmon on top.
Transfer it to a plate - it should slide easily out of the pan with the help of a fish slice - and serve.