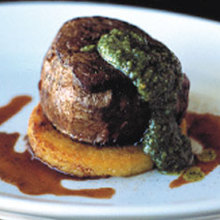 Steak With Fried Polenta & Pesto
---
Ingredients:
1 1/2 cups instant polenta
120g unsalted butter
120g grated parmesan cheese
2 tblspns olive oil
4 x 150g eye fillet steaks
1 tblspn sundried tomato pesto
100ml red wine
150ml beef stock
4 tblspns basil pesto
Serves: 4
Method:

Bring 1 litre salted water to the boil and add the polenta in a slow, steady stream. Reduce heat to medium-low and cook for 6-7 minutes, stirring constantly, until thick (it is ready when a wooden spoon can stand upright). Add half the butter, the parmesan and stir well. Pour into a greased lamington pan. Set aside to cool slightly, then refrigerate until cold. Use a pastry cutter just slightly larger than the steaks to cut 4 rounds from the polenta. Brush with a little of the olive oil.
Preheat the oven to 200°C. Grease a baking sheet.
Add 1 tablespoon of oil and half remaining butter to a frying pan. When hot, add polenta and cook for 1-2 minutes each side until lightly golden. Transfer to the baking sheet in the oven while you cook the steak.
Season steaks well. Return pan to heat, add the remaining oil, then the steaks and cook over high heat for 2 minutes each side. Reduce oven temperature to 160°C. Add steaks to baking sheet with the polenta and return to oven for a further 4 minutes. (Allow steaks to rest for 1 minute before serving.)
Meanwhile, return pan to heat. Add tomato pesto, wine and stock and bring to the boil. Boil for 3 minutes until well reduced. Whisk in remaining butter.
Place a polenta round on each plate, top with a steak and pour the sauce around. Top with pesto before serving.