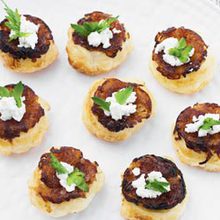 Baby Onion Tarte Tatin With Curly Endive & Roquefort
---
Ingredients:
2 tblspns brown sugar
1 tblspn olive oil
700g (about 28) small onions
2 sheets puff pastry
1 egg, lightly beaten
80g Roquefort
curly endive
1/3 cup roasted walnuts
olive oil
balsamic vinegar
Serves: 4
Method:

Preheat oven to 180C. Grease four 12-15cm 3cm deep tart pans, and sprinkle evenly with sugar.
Heat oil in a heavy based ovenproof pan over medium heat and cook onions for 8-10 minutes, turning, until evenly caramelised. Season, then transfer pan to oven. Cook for 8-10 minutes until onions are tender but hold their shape. Cool slightly. Increase oven to 220C.
Meanwhile, cut two 12cm circles from each pastry sheet. Prick pastry in several places with a fork. Chill for 20 minutes.
Arrange onions in a single layer in the pans, halving any that sit too high. Top with pastry circles, pressing theedges around onions. Brush with egg. Bake for 15 minutes or until puffed and golden.
To serve, invert tarts onto plates so the pastry becomes a base. Crumble cheese over, top with endive, sprinkle with nuts, then drizzle with olive oil and vinegar.