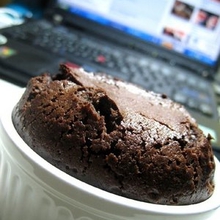 Chocolate Fondants
---
Ingredients:
200g dark chocolate
240g unsalted butter, diced
4 eggs
90g caster sugar
30g plain flour, sifted
icing sugar, to dust
Serves: 6
Method:

Grease six small souffle dishes and lightly dust with flour, shaking off any excess.
Chop the chocolate. Put chocolate and butter in a heatproof bowl, set over a pan of simmering water (don't let the bowl touch the water) and allow to melt, stirring occasionally, until smooth. Remove from heat and cool to room temperature.
In a separate bowl, whisk the eggs and sugar together until thick and pale. Fold in chocolate mixture, then fold in flour. Pour into souffle dishes and chill for at least 2 hours.
Preheat the oven to 200C. Bake the fondants for 10-12 minutes until set - they should be cooked on the outside but runny in the centre.
Remove from the oven and allow to sit for a moment before serving. Dust with icing sugar and serve immediately with cream or ice cream.