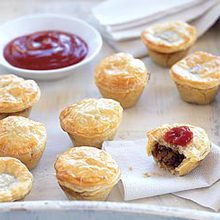 Mini Meat Pies
---
Ingredients:
1 tblspn oil
1 brown onion, finely chopped
2 cloves garlic, crushed
500g lean beef mince
1 carrot, peeled, coarsely grated
250ml gravy
2 sheets shortcrust pastry
2 sheets puff pastry
1 egg, lightly whisked
Serves: 24
Preparation time: 30 minutes
Method:

Heat oil in a medium frying pan over medium heat. Add onion and garlic and cook, stirring, for 2 minutes or until onion softens. Add the mince and cook, stirring with a wooden spoon to break up any lumps, for 5 minutes or until mince changes colour. Add the carrot and stir until well combined.
Add gravy to mince mixture and cook, stirring, for 2 minutes or until sauce thickens slightly. Remove from heat. Cover and set aside for 30 minutes to cool.
Preheat oven to 180°C. Cut the shortcrust pastry sheets into 24 even squares. Line twenty-four 40ml (2-tbs) capacity mini muffin pans with the shortcrust pastry squares. Spoon mince mixture among pastry cases.
Cut puff pastry sheets into 24 even squares. Top each pie with a pastry square. Use a small sharp knife to trim excess pastry. Brush tops with egg.
Bake in oven for 20 minutes or until golden brown. Remove from oven and set aside in the pans for 5 minutes to cool. Serve pies with tomato sauce.
These pies may be frozen for up to 1 month. Cool to room temperature, wrap in plastic wrap, then label, date and freeze. Place in the fridge overnight to thaw. To reheat, preheat oven to 180°C. Place pies on a baking tray and cover with foil. Cook in oven for 15 minutes or until heated through.