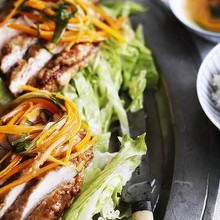 Lemon Chicken
---
Ingredients:
2 chicken breast fillets, skin removed
1 tbsp soy sauce
1 tbsp shao hsing wine
2 egg whites
4 tbsp cornflour
about 1 litre vegetable oil, for shallow frying
shredded iceberg lettuce, to serve
Lemon sauce:
¼ cup sugar
¼ cup white vinegar
1 lemon, juiced and grated rind
¼ tsp salt
½ cup light chicken stock or water
1 small carrot, very finely sliced
2 spring onions, very finely sliced
2 tsp cornflour mixed into 2 tbsp of cold water
Serves: 2 - 4
Preparation time: <30 mins
Method:

Slice each chicken breast in half horizontally into two large, flat pieces. Toss with the soy sauce and shao hsing wine and set aside for a few minutes. Lightly whip the egg whites until just frothy then whisk through the cornflour to make a loose batter.
Heat the oil in a deep frying pan or wok to 170C. Dip the chicken into the batter and shake off any excess. Fry the chicken pieces for around six minutes, turning after three minutes, until lightly browned all over. Remove from the oil and drain well.
For the lemon sauce, bring the sugar, vinegar, lemon juice and rind, salt and stock to the boil in a small saucepan or clean wok. Add the carrot and spring onion and toss until the vegetables are softened. Drizzle in the cornflour mixture while stirring and cook for about one minute until thickened.
Slice the chicken and arrange it on top of the shredded lettuce. Pour the sauce over that to serve.