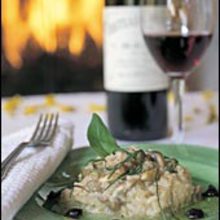 Risotto Al Funghi Porcini
---
Ingredients:
400 g arborio rice
500 g fresh mushrooms
30 g dried porcini mushrooms
? onion
1 garlic clove
90 ml olive oil
1 sage stem
1 glass white wine
1? liters of vegetable or chicken stock
60 g butter
80 g Parmesan
finely chopped parsley
Salt
This recipe relies on the famous porcini mushroom for its flavor. Outside of Italy, it may be difficult to find fresh porcini; so cultivated mushrooms can also be used, while adding a little dried porcini for flavor. It is also possible to substitute porcini with other varieties of wild mushrooms such as chanterelles, oyster or morels.
Serves: Four
Preparation time: 2 hours
Method:

Place the dried porcini mushrooms in a bowl of cold water for several minutes until swollen.
Saute the sliced onion and whole garlic clove in a pan with the olive oil, until the onion is translucent. Add the sliced porcini mushrooms and whole stem of sage. Add the rice and white wine, allowing the wine to slowly evaporate.
Cook on a low flame and adding a ladle full of stock at a time, add more stock as and when the first addition has been absorbed. Continue in this way for approximately 20 minutes or until the rice is swollen but still firm in the center.
Once cooked, remove the rice from the heat, take out the sage stem and garlic clove, and stir in the grated Parmesan, butter, and finely chopped parsley.
Serve immediately.