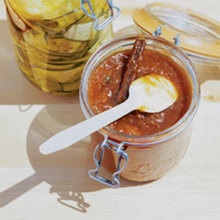 Spiced Peach Relish
---
Ingredients:
310ml white wine vinegar
7 just ripe slipstone peaches
1 green apple
1/2 cup chopped dried peaches
2 tspns ground ginger
4 whole cardomom pods
1 cinnamon stick
400g brown sugar
Serves: 3 cups
Preparation time: 80 minutes
Method:

Halve the peaches, remove the stones and coarsely chop. Core and coarsely chop the apple.


Place the vinegar, peach, apple, dried peach, ginger, cardamom and cinnamon in a large saucepan over high heat and bring to the boil. Reduce heat to medium and simmer, stirring occasionally, for 30 minutes or until peach is tender.
Add the sugar and simmer, stirring occasionally, for a further 40 minutes or until mixture thickens.
Wash a 750ml (3-cup) capacity glass preserving jar and lid in hot, soapy water and rinse well. Drain on a rack.
Spoon the hot relish into the warm jar and seal immediately. Turn upside down for 2 minutes. Turn upright and set aside until cool.