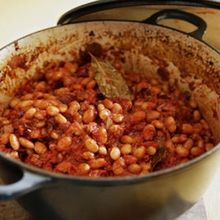 Baked Beans
---
Ingredients:
400g white beans, soaked overnight
100ml olive oil
2 medium brown onions, finely chopped
150g streaky bacon, finely chopped
6 cloves garlic, finely chopped
1 tspn ground white pepper
3 tspns salt
2 tblspns tomato paste
300ml red wine
800g tin tomatoes
2 bay leaves
3 tblspns brown sugar
Adding salt to boiling water is almost a reflex action for many cooks. But when cooking dried pulses, such as beans, it is important not to add salt at the beginning of the process. If salt is added, this will harden the bean skins, making them less palatable. For the desired soft texture from dried beans, add salt at the end of the cooking time.
Serves: 6
Method:

Preheat oven to 180C.
Drain beans and place in a large saucepan. Cover well with cold water and bring to the boil. Simmer until cooked, about 30 minutes. Drain and reserve.
Heat olive oil in a heavy-based saucepan. Add onion, garlic, bacon, pepper and salt and cook gently until soft, about 15 minutes. Add tomato paste and cook for two minutes. Add wine and reduce by two-thirds. Add tomatoes, bay leaves, sugar and beans. Bring to the boil, cover with a lid and bake for one hour, stirring occasionally.