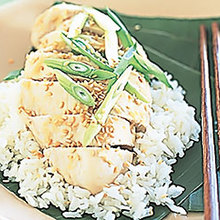 Steamed Asian Chicken Breasts
---
Ingredients:
3 shallots (green onions)
1 1/2 tblspns lime juice
1 tblspn fish sauce
1 tblspn oyster sauce
1 tspn sesame oil
1 tblspn grated ginger
4 small chicken breasts, trimmed
1 tblspn sesame seeds
steamed rice, to serve
Serves: 4
Preparation time: 30 minutes
Method:

Finely chop 1 shallot and then slice the remaining shallots thinly on the diagonal. Bring a large wok or saucepan of water to the boil. In a small bowl combine the lime juice, fish sauce, oyster sauce, sesame oil, grated ginger and the chopped shallot.
Pour over the chicken and marinate for 30 minutes. Trim a piece of baking paper and line base and 3cm up the sides of a bamboo steamer. Place chicken and marinade into steamer and and place over the boiling water. Cover with a lid and steam for 8-10 minutes or until just cooked though.
Slice the chicken on the diagonal and pour over the cooking juices. Top with sliced shallots and toasted sesame seeds. Serve with steamed rice on a banana leaf if desired.