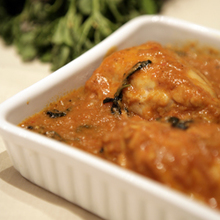 Methi Murgh
---
Ingredients:
2 - 3 chicken fillets
2 ripe tomatoes
1 large onion
1 inch ginger
4 cloves garlic
2 tblspns thick yoghurt
4 cardamoms
6 black peppercorns
1 inch cinnamon
1 tspn whole cumin
1/2 tspn chilli powder
1/2 tspn turmeric powder
50g fresh fenugreek leaves
2 tblspns oil
Borrowed (withous permission, yet again) from Mellika Besu at Quick Indian Cooking.
Serves: 4
Method:

Chop the onion into little pieces. Peel the ginger and garlic. In a small food processor, puree the tomatoes together with the ginger and garlic.
Next, dry roast the whole spices in an oven or on a flat frying pan until aromatic. Grind them into a fine powder. I used a coffee grinder.
Wash the fenugreek throughly under a cold tap and remove any hard stalks. Then set a large pot with one tablespoon to heat over a high flame. When the oil is hot, add the onions and fry for five minutes stirring constantly until it turns pale brown.
Then add the spice powder and stir for another two minutes. If it starts getting stuck on the bottom of the pan, just add a little bit of hot water and scrape off.
Now add the pureed tomatoes mixture and cook for 10 minutes, stirring regularly, then mix in the yogurt. The masala with thicken and start to get stuck on the sides of the pot. No panic, just add a little more hot water. When the masala darkens and it's pungent smell goes, add salt to taste and then go in with a hand blender to puree it to a smooth mixture. This isn't absolutely necessary but it gives you that restaurant finish.
In goes the chicken next, which you need to brown on either side mixing in the masala well. Then add hot water next to submerge the chicken, lower the flame slightly to a medium high and cook until it's cooked. This takes a good 20-25 minutes. Just make sure you keep stirring from time to time so it doesn't burn.
When you feel the chicken is almost ready, fry the fenugreek leaves in a small saucepan with the remaining tablespoon of oil until wilted and a darker shade of green. Then mix them into the chicken curry, lower the heat and simmer for two minutes. When oil floats to the top, your Methi Murgh is ready.
This dish is perfect with a simple dal and steaming hot basmati rice.