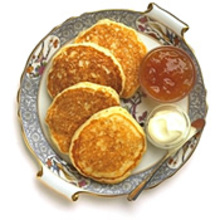 Pikelets
---
Ingredients:
1 cup SR flour
2 tblspns sugar
1 egg
1/2 cup milk
1 flat tspn carb soda
1 tspn vinegar
1 tblspn butter
Preparation time: 15 minutes
Method:

Mix flour, sugar and egg.
Add carb soda and vinegar to milk.
Add the milk mixture to flour etc and beat until smooth.
Add melted butter.
Cook on flat frying pan with some melted butter.