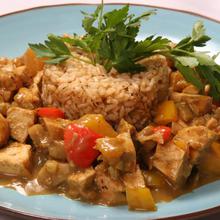 Mango & Coconut Chicken
---
Ingredients:
3 chicken breasts
A large fresh mango or 1 can of cheeks with juice
French onion soup mix
1 can light coconut milk
vegetable oil for frying
fresh chopped coriander to serve
A quick and easy chicken dish the kids love.
Method:

Cut chicken into bite sized pieces.
Heat oil in a pan and panfry chicken until brown.
Remove flesh from Mango and puree (I use a stab mixer for this).
Add 1 tablespoon of the French onion soup mix to the mango puree and stir until combined.
Add to pan with chicken along with coconut milk.
Stir and simmer on low with the lid off for 10 min or until sauce thickens slightly.
Serve on Basmati rice and sprinkle with fresh chopped coriander.