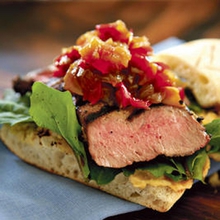 Lamb Burger With Capsicum Relish
---
Ingredients:
6 cloves garlic, chopped
1 tblspn grated lemon rind
1 tblspn black peppercorns
800g lamb backstrap, trimmed
200ml olive oil
2 medium brown onions, chopped
sea salt
freshly ground pepper
2 bay leaves
2 red capsicums, chopped
80g brown sugar
1 turkish bread, cut into 4 and then in half
2 handfuls rocket
4 tspns hummus
The relish will keep in the fridge for at least a week and is great with any grilled or cold meats and chicken
Serves: 4
Method:

Crush four garlic cloves, lemon rind and peppercorns in a mortar and pestle or roughly chop and spread on lamb. Drizzle with olive oil and refrigerate overnight or for an hour.
For the relish Heat olive oil in a saucepan, add onion and remaining garlic and season. Cook until soft, about 10 minutes. Add bay leaves and capsicum and cook for a further five minutes. Add sugar and vinegar and simmer to reduce liquid, about 30 minutes.
Preheat a barbecue or grill to high. Scrape marinade off lamb and cook meat to your liking on the barbecue. Slice on an angle.
Grill bread and fill with rocket, hummus, lamb and a large spoon of relish to serve.