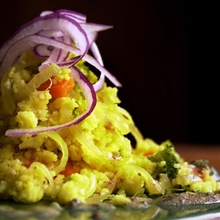 Golden Couscous With Lemony Mustard Dressing
---
Ingredients:
1 1/2 cups couscous
3 cups water
1 tspn turmeric
1/4 cup red onion, thinly sliced
1/2 cup carrots, cut into cubes
1 cup broccoli florets
1 cup rocket, washed and roughly chopped
1/4 cup toasted walnuts, slivered
sea salt
DRESSING
1/4 cup lemon juice
1 tblspn grain mustard
1/2 tblspn sweet white miso
2 tblspns dill, finely chopped
3 tblspns virgin olive oil
Cous cous, the quickest of all grain dishes, originated in Morocco and forms a staple food in Moroccan and North African cookery.
Method:

In a medium-sized pot bring the water to a boil and add the turmeric, onions, carrots and a teaspoon of salt. Allow to simmer for three to four minutes. Stir in the cous cous and broccoli.
Lower the flame, cover and simmer for another three minutes or until the water has absorbed. Turn off the flame and allow to sit for a few minutes.
To make the dressing, whisk together all the ingredients in a bowl and set aside.
Pour the cous cous into a large bowl and stir in the toasted walnuts, rocket and dressing.
Serve warm, or chilled for a summer salad.