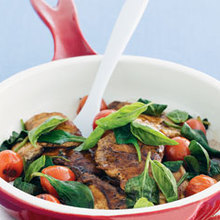 Balsamic Chicken With Spinach & Cherry Tomatoes
---
Ingredients:
500g chicken breast fillets, thinly sliced
2 tblspns balsamic vinegar
1 tblspn brown sugar
2 cloves garlic, chopped
1 tblspn olive oil
250g cherry tomatoes
100g baby spinach leaves
1/2 cup fresh basil leaves
Serves: 4
Method:

Place chicken in a large, shallow, glass or ceramic dish. Season with salt and pepper. Whisk vinegar, sugar and garlic in a small bowl. Pour over chicken. Turn chicken to coat. Cover and refrigerate for 30 minutes, if time permits.
Heat oil in a large frying pan over medium-high heat. Cook chicken, in batches, for 2 to 3 minutes or until browned and cooked through. Remove to a plate.
Add cherry tomatoes to pan. Cook, stirring occasionally, for 3 minutes or until tomatoes start to soften. Return chicken to pan. Add spinach. Cook for 1 to 2 minutes or until spinach is just wilted. Top with basil leaves. Serve.