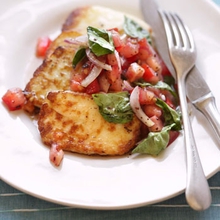 Haloumi With Basil & Tomato
---
Ingredients:
2 x 250g pieces of haloumi cheese
1/2 a small red onion, finely sliced
3 ripe tomatoes, chopped
1/2 cup basil leaves, torn
2 tspns sumac
salt
freshly ground black pepper
3 tblspns extra virgin olive oil
1 tblspn red wine vinegar
flour for dusting
4 tblspns olive oil
juice of half a lemon
Serves: 4
Method:

Cut the haloumi into 2cm thick slices.
Make a salad from the onion, tomatoes, basil and sumac, and dress with salt, pepper, extra virgin olive oil and vinegar and set aside.
Heat a non-stick or heavy-based pan. Lightly dust the cheese in flour and shake off excess. Pour olive oil into the pan and add slices of the haloumi. Cook very quickly until golden on both sides, then remove to a platter.
Squeeze over some lemon juice, then scatter the salad over and serve.