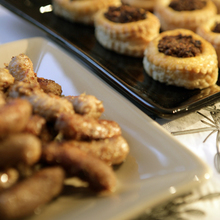 Vindaloo Cocktail Sausages
---
Ingredients:
1kg raw cocktail sausages
8 cloves garlic
4cm ginger
2 tspns cumin seeds
2 tspns coriander seeds
2 tspns mustard seeds
5 dry red chillies
10 peppercorns
1 stick cinnamon
5 cloves
1/2 cup white wine vinegar
Borrowed (without permission) from Mallika Besu at Quick Indian Cooking (see the Links page).
Serves: Lots
Method:

Grind all the spices together with the ginger, garlic and vinegar. Taste and add salt to your preference. Smother the cocktail sausages with this marinade and leave to sit for an hour or two.
Line a baking tray with foil and cook a layer of sausages under a medium hot grill for 10 minutes. Then turn over the sausages and cook for another 10 minutes. Discard any excess oil that escapes, saving the marinade, and spoon into microwaveable bowls or plates.
When you're ready to serve them out, reheat in the microwave for three minutes and bring out the tomato sauce!