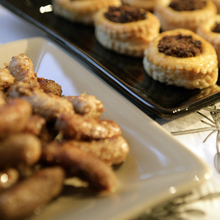 Keema Vol Au Vents
---
Ingredients:
60 frozen vol au vent cases
1 egg
750g beef or lamb mince
5cm ginger
6 cloves garlic
1 large onion
2 tblspns tomato puree
2 tblspns Greek yoghurt
2 tspns coriander
2 tspns cumin
1 1/2 tspns chilli powder
1 tspn turmeric
1 tspn garam masala
bunch fresh coriander
2 tblspns oil
salt to taste
Borrowed (without permission) from Mallika Besu at Quick Indian Cooking (see the Links page)
Serves: Lots
Method:

Make the keema filling first. Chope the onion, ginger and garlic finely and puree the ginger and garlic.
Bring the oil to heat over a high flame in a large pot. When it's hot, fry the onion, ginger and garlic until golden brown. Then stir in the spice powders and fry for another five minutes until you can see oil appearing on the sides of the paste.
If the masala sticks to the bottom of the pot, just add a little hot water and scrape off. Now add the tomatoe puree and the yogurt and fry for another five minutes stirring viciously until it's all well mixed. Next, add in the mincemeat and jab it with the spoon to brown it with the masalas.
Add half a cup of water and simmer for 20 minutes until the meat is cooked through. Finaly, stir in salt and the coriander leaves.
Before your guests arive, brush the vol au vent cases lightly with beaten egg. If using sheets of pastry, cut each one in 8 even rectangles and brush as above. Then cook for 15-20 minutes in a hot oven until puffed up and golden brown. Fill each pastry case with a tablespoon of keema, arrange on platters and wait until your guests arrive to impress.