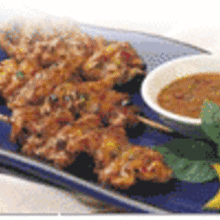 Pork Satays with Peanut Sauce
---
Ingredients:
MARINADE
1 tspn vinegar
1 tblspn finely chopped onion
2 tblspns soy sauce
6 tspns sugar
1 tblspn oil


SAUCE
2 tspns oil
1 red chilli
1 - 2 onions, finely chopped
2 cloves garlic, crushed
3/4 cup crunchy peanut paste
6 tspns soy sauce
2 tblspns sugar
1 tblspn lemon juice
1/2 cup water
Method:

Cut meat into appropriate sized cubes.
Place all marinade ingredients in a bowl and mix until well combined.
Add meat and stir, leave to marinate over night.
Thread meat onto bamboo skewers and cook under a grill or on the weber, basting occasionally with any left over marinade.
Heat oil in a saucepan , add chilli, onion and garlic.
Fry, stirring all the time until softened, about 2 minutes.
Add remaining sauce ingredients, heat through.
Pour over satays when cooked.