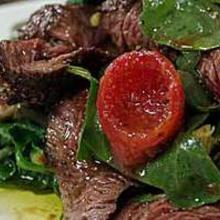 Kangaroo Salad
---
Ingredients:
1 kangaroo saddle
SPICES
1 tspn whole bush tomato
1/8 tspn ground lemon myrtle
1/4 tspn mountain pepper
1/2 tspn mountain pepper leaf
1/2 tspn sea salt
1 tblspn olive oil
2 tspns coriander seeds
1/4 tspn ground fennel seed
30ml macadamia oil for cooking
QUANDONG SYRUP
10 quandong halves
60ml orange juice
1 star anise
15g sugar
SALAD
6 bush bananas
20ml macadamia oil
100g warrigal
sea salt
2 pinches szechuan pepper
100g salt bush leaves
2 tblspns desert limes
1 lemon, juiced
80ml olive oil
sea salt
freshly ground pepper
Serves: 2
Method:

Kangaroo
Grind spices in a mortar and pestle. Trim kangaroo by removing the sinew and the silver skin and roll in spice crust. Heat oil in a pan or heat BBQ to very hot and cook roo, a few minutes either side, adding all of the spice 'marinade'. Rest. Reserve the juices from the pan to add to the quandong syrup.
Quandong Syrup
Heat orange juice with star anise and sugar, add quandongs, which have been rehydrated in the orange juice and simmer until just tender. Cool in syrup. Drain. Add the juices from the roo pan.
Salad
Peel and cut bush bananas into halves and season with salt. Cook quickly in a hot pan skin side down till the skin blisters then add warrigal leaves, sprinkle with two pinches of Szechuan pepper and allow to wilt.
Slice the saltbush leaves.
Slice the roo into small pieces across the grain.
Make dressing using lemon juice, olive oil and salt and pepper.
In a bowl combine cooked bush bananas, wilted warrigal greens, desert limes, quandongs and their syrup, chopped saltbush and the chopped Roo. Lightly toss all ingredients together. Arrange gently on a serving plate and drizzle over dressing. Adjust the seasoning and dressing and serve.