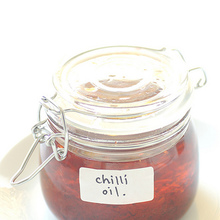 Chilli Oil
---
Ingredients:
400g long red chillies
6 large cloves garlic
800ml extra virgin olive oil
Serves: Makes about 1l
Method:

Halve chillies lengthwise and deseed, using gloves if you're worried about burn. Peel and smash garlic to open up a little. Place chilli, garlic and oil in a medium saucepan and bring to a simmer over a medium heat.
Allow to simmer until garlic is golden brown. Remove from the heat and allow to cool a little. Transfer chilli and garlic to a food processor and puree with a little of the oil. Return solids to the oil and store in an airtight container.
Will keep in the fridge for a couple of months.