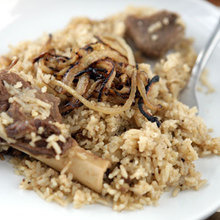 Lamb Pulao
---
Ingredients:
1kg lamb chunks
500g basmati rice
1 medium onion
2 large onions
4 cloves garlic
5cm ginger
2 tspns coriander powder
1 tspn cumin powder
1 tspn chilli powder
1/2 tspn turmeric
1/2 tspn mace
1/2 tspn freshly ground nutmeg
1 cinnamon stick
2 tblspns thick yoghurt
2 green finger chillies
10 sprigs fresh coriander
2 tblspns oil
RICE
2 black cardamoms
1 stick cinnamon
1 star anise
1 tblspn ghee
Serves: 6
Preparation time: 1 1/2 hours
Method:

First cook the lamb. Slice the two onions and puree together the ginger, garlic, cinnamon with a tablespoon of water. Better still you could just use ginger garlic paste and some cinnamon powder to save time.
Fry the onions until pale golden in hot oil over a high flame. Add the ginger garlic paste and fry for another 5 minutes until the masala turns a darker shade of gold. Chope up the chillies and coriander.
Next, go in with all the spices and the lamb. Stir vigorously for five minutes until the meat darkens. Mix in the yogurt, half a cup of hot water and cook covered on a medium flame for 45 minutes stirring regularly until the lamb softens. Then take the lid off and let the curry dry up.
Now get the rice going by washing it thoroughly under cold running water. In a large pot, bring the ghee to heat over a high flame. When it's hot, chuck in the whole spices and let them sizzle for a few seconds. Then measure the washed rice in a cup, add it to the pot and saute for a minute until it turns bright white.
Then stir in the meat, 1.5 cups of hot water, bring to a boil and then simmer on a low flame for 15 minutes until the rice absorbs all the liquids. That fluffy texture is all important, so don't stir the rice more than two times when it's cooking and don't add water unless your rice remains uncooked.
Serve with the remaining onion sliced and fried on top and a raita on the side.