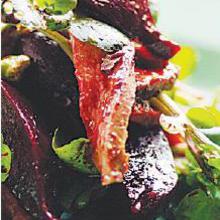 Venison, Beetroot & Watercress Salad
---
Ingredients:
600g venison topside, cleaned
olive oil, for cooking
1 bunch small beetroots
50ml red wine vinegar
75ml olive oil
25ml pistachio oil
salt
freshly ground black pepper
1 bunch watercress
30g roasted pistachios
Serves: 4
Preparation time: 40 minutes
Method:

Preheat oven to 180C
Heat a frypan over high heat, add a little oil and sear each side until golden brown. Roast in oven for 8-10 minues, then allow to rest in a warm place.
Cook whole beetroots in boiling water until just soft. Drain and cool. Gently rub skins off beetroot, cut each into eight wedges and place in a mixing bowl. Pour over vinegar and oils and season. Wash and pick watercress and add to bowl.
Finely slice venison and toss with other ingredients. Pile on to serving plates and sprinkle over chopped pistachios.