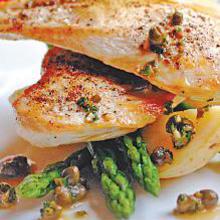 Pan Fried Chicken Breast With Capers & Asparagus
---
Ingredients:
2 chicken breast fillets
30g butter
50ml olive oil
2 tblspns chopped chives
1 clove garlic, finely chopped
40ml verjuice
4 baby potatoes, steamed
125ml chicken stock
1 bunch asparagus, steamed
1 tblspn capers
4-6 slices parmesan
Serves: 2
Preparation time: 20 minutes
Method:

Slice each chicken breast in half horizontally. Season with salt and freshly ground black pepper. Heat oil in a large heavy based frying pan over high heat. Add the chicken pieces, cook until golden brown on each side and cooked through. Put aside and keep warm.
Add the garlic to the pan and cook, stirring, until golden brown. Add the verjuice and simmer until reduced by half. Add the stock and capers and again simmer until reduced by half and thickened slightly. Stir in the butter and chives.
To serve, pile the potatoes and asparagus on to two plates. Place the chicken fillets on top and drizzle over the sauce. Finish with shaved parmesan.