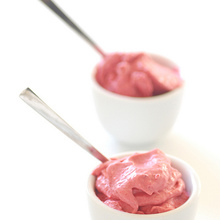 Raspberry Gelato
---
Ingredients:
300g frozen raspberries
1/3 cup sugar
1/2 cup double cream
Borrowed from Jules Clancy at TheStoneSoup.
Serves: 4
Preparation time: 15 minutes
Method:

Place all ingredients in a food processor and whizz until you have a smooth creamy mixture that looks like soft gelato.
Taste and add extra sugar if you think it needs it.
Freeze for a few hours, then serve.