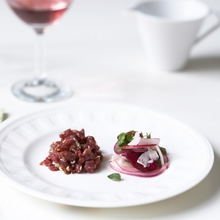 Wagyu Carne Cruda
---
Ingredients:
300g wagyu topside
2 lemens, finely zested
1 shallot, finely diced
3 tblspsns lemon oil
fresh horseradish, to serve
SALAD
2 baby beets, finely shaved
1/4 cup finely julienned celeriac
2 red radishes, finely shaved
1/4 cup parsley leaves
2 tspns oregano leaves
1/4 cup watercress leaves
1 smalll red onion, finely sliced
1-2 drops lemon oil
The italian version of steak tartare. This recipe uses completely raw beef, but I prefer to quickly sear the outside first before dicing / mincing.
Serves: 6
Preparation time: 30 minutes
Method:

Thirty minutes before serving, finely dice or mince the beef.
Combine the lemon zest, shallot and lemon oil in a small bowl, season well and add to the beef, stirring well to combine.
Put about 1⁄4 cup of the beef mixture onto a serving plate.
Combine the salad ingredients in a bowl, add a drop or two of the lemon oil and toss to combine.
Arrange the salad next to the meat and shave over the fresh horseradish.