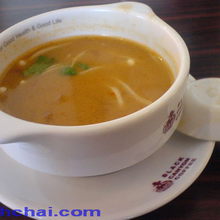 Tom Yam Soup
---
Ingredients:
1 chicken breast, finely sliced
200g prawns
2 stalks of lemon grass, crushed
1 tin of coconut milk
4 cups chicken stock
1 tspn crushed chilli
2 tblspns fish sauce
1/4 cup lemon juice
2 cloves garlic, crushed
pinch of salt
2 tblspns fresh coriander leaves
1 bok choy, chopped
6 mushrooms
1 carrot finely sliced
Spicy Thai Soup
Serves: 6
Preparation time: 20 minutes
Method:

Put chicken stock, lemon grass, chilli, salt, garlic, fish sauce in a large saucepan and bring to the boil.
Add carrot, mushrooms, and chicken and simmer for 10 minutes.
Add coconut milk, prawns and bok choy and simmer for another 3 minutes.
Add lemon juice and garnish with coriander.