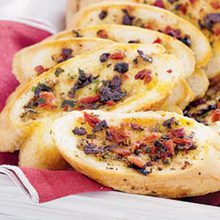 Antipasto Garlic Bread
---
Ingredients:
2 long baguettes
180g butter, softened
2 cloves garlic, crushed
2 tblspns finely chopped kalamata olives
2 tblspns finely chopped semi-dried tomatoes
1 tblspn finely chopped fresh chives
2 tblspns finely chopped fresh basil
Serves: 6
Method:

Preheat oven to 200°C/180°C fan-forced.
Slice each baguette diagonally at 1.5cm intervals, being careful not to cut all the way through.
Combine butter, garlic, olives, tomato, chives and basil in a bowl. Season with pepper. Spread both sides of each bread slice with spread mixture.
Enclose baguettes tightly in foil. Place on a baking tray. Bake for 10 to 15 minutes or until hot and crisp. Slice and serve.