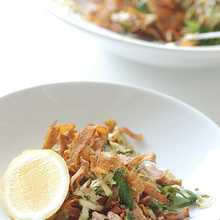 Crispy Flatbread & Zucchini Salad With Tuna
---
Ingredients:
1/4 cup extra virgin olive oil or chilli oil
2 lebanese bread rounds
1 tblspn baharat
SALAD
2 tblspns lemon juice
1 tspn sherry vinegar
2 tblspns extra virgin olive oil
1/2 tspn baharat
3 medium zucchini, coarsley grated
1/2 red onion, finely diced
1/2 bunch mint, leaves picked
1-2 x 185g cans tuna in oil, drained
BAHARAT
2 1/2 tblspns mild paprika
2 tblspns black peppercorns
1 1/2 tblspns cumin seeds
1 tblspn coriander seeds
1 tblspn cassia bark
1 tblspn cloves
1/2 tspn green cardamom seeds
1/2 tspn nutmeg
Borrowed from Jules Clancy at TheStoneSoup.
Serves: 2-3
Preparation time: 15 minutes
Method:

Roll flatbread into logs and slice crosswise into fine ribbons. Heat oil in a large frying pan or wok over a medium high heat. Add bread ribbons and spice blend and stir fry until bread is crispy and toasted. Drain on paper towel.
Combine lemon juice, vinegar, oil for the salad and extra spice in a large salad bowl and season well. Toss through zucchini and red onion and allow to stand for a few minutes for the zucchini to soak up some of the dressing.
Toss through flat bread ribbons, mint leaves and tuna if using and serve immediately.
Note: Baharat is a Lebanse spice blend. To make your own toast each of the listed spices lightly and grind whole spices separately. Allow to cool and combine.