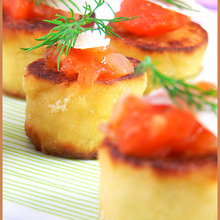 Sauteed Gnocchi With Tarragon Tomato Sauce
---
Ingredients:
500g potatoes
1 egg
1/2 cup flour
1 tblspn chopped chives
5 roma tomatoes
1 bunch fresh tarragon
1 red onion
2 cloves garlic
salt
freshly ground black pepper
dill
parmesan cheese
Serves: Makes about 30
Method:

For the gnocchi:
Preheat the oven at 250C. Prick the potatoes with a fork and cook for about 1hour or until tender. Leave to cool and then scoop the flesh out. Pass it through a ricer. Add the flour, chives and egg, and season with salt. Mix with the tips of your fingers. The dough should not be too wet, so if need be, add a tiny bit more flour.
Divide the dough and make 7 to 8 inches long rolls and place each roll on a piece of plastic film. Roll to secure your gnocchi inside the plastic film and tie both ends. Bring water to a boil in a large pot and cook the gnocchi rolls for about 10 mns. Remove them and refresh in iced water.
For the tomato fondue:
Blanch the tomatoes for 10s and rince in iced water. Peel and chop them. Heat the olive oil in a pan and when hot, add the chopped onion, garlic and herbs with a pinch of salt. Let sweat for 10 mns or so, until this mixture is softer. Add the tomatoes and simmer for 20 minutes, stirring occasionally. The tomato fondue should be thick and reduced. Check and adjust the seasoning.
To finish:
To assemble your dish, unwrap the gnocchi rolls and cut 1 inch gnocchi that you dust in flour. Heat a non-stick frying pan over medium heat. Add the butter or olive oil and when hot, sauté the gnocchi. Cook for 3 to 5 mns or until golden brown on both sides.
Serve with tomato fondue on top and slices of parmesan cheese. Decorate with dill sprigs.