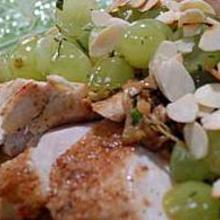 Chicken Veronique
---
Ingredients:
2 chicken breasts, skin on
30g unsalted butter
2 tspns sea salt
1/4 tspn cinnamon
1 shallot, sliced
2 small fennel stalks finely sliced
2 tblspns verjuice
1/2 cup chicken stock
1/2 cup cream
1 tspn fresh tarragon
1 tspn chopped thyme
1/2 cup green grapes, halved
2 tblspns toasted almond flakes
Serves: 2
Method:

Combine the sea salt and nutmeg together and season each breast, pressing it into the skin. Heat 15g butter in a frying pan and when hot, add the breasts, turning occasionally for about 7-8 minutes.
Remove from the pan and place in an oven previously heated to 180C for a couple of minutes, (3-6 mins depending on the thickness of the breasts), remove and allow to rest.
Meanwhile, in a clean pan, melt the remainder of the butter and sauté the shallot and the fennel and continue to cook until just soft. Deglaze with verjuice and cook for a minute or two. Add the stock and continue to reduce by a quarter, add the cream (up to half a cup). Stir to combine and reduce a little further. Taste for seasoning and add the tarragon and cook a little more. Then add thyme, and the fennel fronds and swirl together.
Carve each breast into thick slices and place on the plates. Add the grapes to the sauce and pour over the breasts. Top with toasted almond flakes and serve.