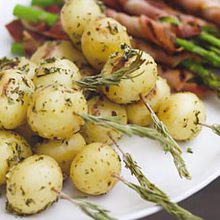 Baby Potato Rosemary Skewers
---
Ingredients:
18 small baby coliban potatoes
1 tblspn olive oil
1 tblspn finely chopped rosemary
1 clove garlic, crushed
1 tblspn sea salt
Serves: 6
Method:

Place potatoes in a medium saucepan and cover with plenty of cold water. Place over high heat and bring to the boil. Cook for 8 minutes or until potatoes are just tender. Drain well. Return to pan. Drizzle with oil and add the rosemary and garlic. Gently toss to combine. Set aside to cool to room temperature.
Preheat barbecue on high. Thread potatoes evenly among skewers. Sprinkle with sea salt and season with pepper. Cook on barbecue for 2-3 minutes each side or until golden brown and heated through. Serve on a platter with barbecued asparagus.