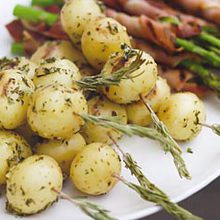 BBQ Asparagus With Prosciutto
---
Ingredients:
6 slices prosciutto, thinly sliced lengthways
2 bunches asparagus, woody ends trimmed
Serves: 6
Method:

Wrap a slice of prosciutto around an asparagus spear. Repeat with remaining prosciutto and asparagus.
Preheat barbecue on high. Cook asparagus on barbecue, turning occasionally, for 5 minutes or until just tender. Serve on a platter with baby potato rosemary skewers.