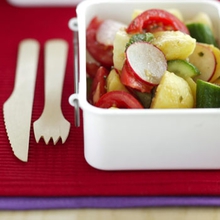 Potato Salad
---
Ingredients:
6-8 medium size waxy potatoes
2 Lebanese cucumbers
6 ripe tomatoes
1 handful mint leaves
5 red radishes
1/2 tspn dried oregano
sea salt
freshly ground black pepper
3 tblspns extra virgin olive oil
2 tblspns vinegar
The key to this salad is to dress the potatoes while they are still warm, as they will absorb the flavours and taste better.
Serves: 4-6
Method:

Wash the potatoes, put into a large pot and cover with cold water. Boil until cooked through and drain.
When just cool enough to handle, peel the potatoes and cut into large chunks.
Put the potatoes in a large bowl and add the roughly chopped cucumber, tomatoes and mint leaves.
Slice the radishes thinly and add to the salad with the oregano, salt and pepper to taste and the oil and vinegar.
Toss well and chill before serving.