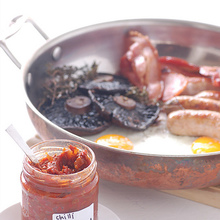 Chilli Jam
---
Ingredients:
3 large red capsicum
2kg long red chillis
1/2 cup olive oil
6 red onions, peeled and finely diced
1/2 tspn ground cumin
1/2 tspn ground allspice
1 tblspn smoky paprika
300g sultanas, well chopped
100g brown sugar
Borrowed from Jules Clancy at thestonesoup (see links).
Serves: Makes about 5 medium sized jars
Method:

Preheat oven to 200C.
Divide chillli and red capsicum between two baking trays and drizzle each with a little oil, reserving the rest to cook the onions. Bake for about an hour, turning every 20minutes or so until vegetables are soft and browned. Remove from the oven and cover and allow to cool.
Meanwhile, to sterilize your jars pop them in the dishwasher and give them a spin on the hottest cycle. Or place them in a large saucepan and cover with water and bring to a simmer then drain and allow to dry in a low oven.
In your largest saucepan or a stock pot, warm oil over a medium low heat. Add onion and cook stirring occasionally until onion is soft but not brown. Add garlic and cook for another few minutes before adding spices. If your chilli isn't yet ready remove the onion from the heat while you attend to the chilli.
When the chilli and capsicum are cool enough to handle, I thoroughly recommend you put on some rubber gloves. Peel and deseed the capsicum and chilli, reserving any water that has accumulated. If you'd prefer it a little hotter leave some of the chillis with the seeds in (I left about 10 with their seeds in and was glad I hadn't left any more). Roughly chop the chilli and capsicum flesh and add to the onion pan along with the reserved water.
Bring to a simmer and add sultanas and sugar. Simmer, stirring occasionally for 1 - 2 hours or until the jam has thickened into a chunky jammy paste. Immediately divide between the sterilized jars and seal while still hot.
Allow to stand for at least a week but preferably 2 before enjoying with your breakfast of choice.
Will keep in the cupboard for a few months but once opened, refrigerate the jar.