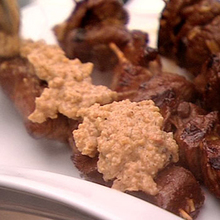 Satay Daging
---
Ingredients:
1 kg beef topside
50 small bamboo skewers
125 ml (½ cup) peanut oil, for brushing
cucumber and red onion pieces, to serve
Marinade
1 medium brown onion, coarsely chopped
1 tsp ground fennel
1 tsp ground turmeric
4 tbsp sugar
2 tbsp ground coriander
1 tbsp ground cumin
3 stalks lemongrass, tender inner core only, finely sliced
2 tbsp dark soy sauce
4 tbsp peanut oil
Peanut sauce
10 large dried chillies, de-seeded and soaked in hot water for 20 minutes
2 medium brown onions, sliced sliced
4 garlic cloves, peeled
2 stalks lemongrass, tender inner core only, finely sliced
1 tbsp belacan (shrimp paste)
1 tsp ground coriander
1 tsp ground cumin
60 ml (¼ cup) peanut oil
300 g ground roasted peanuts
400 ml coconut cream
1 tbsp tamarind pulp
125 ml (½ cup) hot water
2 tbsp sugar
1 tsp salt
Serves: 50
Preparation time: 1 hour
Method:

Place the meat in the refrigerator or freezer for 1 hour - this will make it easier to slice. Using a large sharp knife, thinly slice the meat against the grain, then again into 5 cm long pieces.
To make the marinade, place all the ingredients in a blender or food processor and process until smooth. Transfer to bowl, add the beef and stir to combine well. Cover and refrigerate for at least 3-4 hours or overnight if time permits.
Meanwhile, to make the peanut sauce, place the chillies, onions, garlic, lemongrass, belacan, coriander and cumin in a blender and process until smooth. Heat the oil in a medium saucepan over medium heat and fry the paste, stirring occasionally for about 10-15 minutes until very fragrant. Add the peanuts and coconut cream and bring to a simmer. Combine the tamarind pulp and hot water until smooth, then add to the sauce with the sugar and salt and simmer for another 5-10 minutes or until the sauce starts to form an oily gloss on the surface. Re-heat gently just before serving.
Soak the bamboo skewers in cold water for at least 1 hour before skewering. Thread one slice of beef onto each skewers, weaving it onto the skewer 2-3 time to hold it in place. You only want the meat to come about one-third of the way down the skewer. Use your hands to mold the skewer into a nice firm shape.
Preheat a barbecue hot plate, grill pan or frying pan over high heat. Brush the skewers with oil, then cook, basting regularly with extra oil and turning regularly for about 5 minutes until cooked through. Serve immediately with the peanut sauce, with cucumber and red onion on the side.