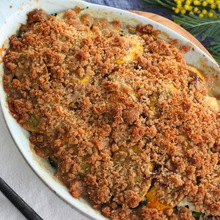 Vegetable Crumble - Das Gemuese Kruemmel
---
Ingredients:
FILLING INGEDIENTS:
3/4 Cup courgette sliced
3/4 cup broccoli small florets
3/4 cup cauliflower small florets
3/4 cup diced pumpkin
1/3 cup frozen peas
1/3 cup onion diced
1 sachet 4-cheese sauce
200ml boiling water
1/4 cup grated tasty cheese
3/4 cup carrots sliced
CRUMBLE INGREDIENTS
1/4 cup dried breadcrumbs
1/4 cup plain flour
1 Weet Bix crushed
1/2 tbspn chopped parsley
1 tbspn milk
1 tbspn margarine melted
1 tspn grated parmesan
A tasty vegetarian dish of vegetables with a crumble topping. Can be used as a main dish for the mung beaners out there.
Serves: 4 as a side dish
Preparation time: 40 mins
Method:

Pre-heat oven to 180 deg C fan forced.
Cook all vegetables in microwave with half a cup of water on high for 8 minutes. Drain and place the vegetables in a medium sized casserole dish or small lasagne dish.
In a small bowl whisk cheese sauce sachet with boiling water. Add grated cheese and mix until cheese has melted. Pour the sauce over the vegetables.
To make the crumble: In a medium sized mixing bowl, combine all crumble ingredients - you may need to use your fingers to create a crumble texture.
Sprinkle the crumble over the vegetables, bake for 20 minutes or until crumble has browned on top.
Adjust cheese content and seasoning to your taste.